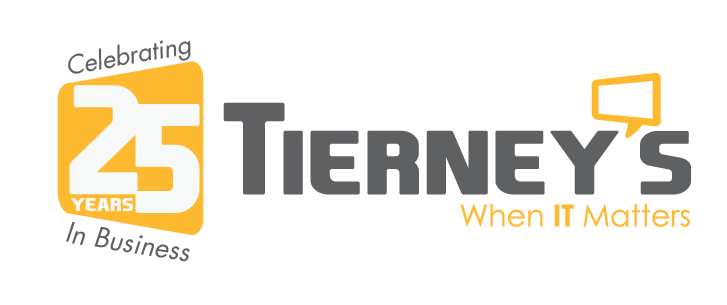 Source from Hotel & Restaurant Times Magazine June/July Edition 2018
Tierneys are regarded as a leading IT provider within the hospitality sector in Ireland and the UK. Offering a premium service to all their clients, the company is celebrating 25 years in business next month. We spoke to managing director and founder of the company Andy Tierney to ask him how it all began.
The very beginning for Andy Tierney was April 1993. "I was made redundant from a company based in Shannon. 1993 was a very bad year for the economy, I remember there was less than half a page of jobs advertised in the Irish Times on a Thursday. I had moved from Dublin in 1988 and I didn't want to move back even though I might have had a better chance of getting work there. But I had £6,300 and at that time that was enough to cover the mortgage for a year so I decided I would go for it and set up my own business".
Andy started the company in July 1993 but the idea he had for the business then never came to fruition and he found himself being taken in a completely different direction. "My initial idea was to develop a product. I had been a research and development manager in my previous role but I hadn't enough money to do that straight away. So to generate money I started selling PC's and I never got to develop the product".
In the early years Tierney's customer base consisted of a variety of businesses, however Andy soon realised that he needed to find a niche in the marketplace that he could concentrate on developing. "By 1995 I realised that if I could concentrate on one type of business, I could train engineers to be experts in that particular area and it just so happened that at that time I had more business from hotels than anywhere else so I decided to concentrate on the IT needs of the hospitality sector".
"My first big break came from working with the Clare Inn. They had a problem with their PMS and I fixed it in half an hour. IGS saw what I had done and were very impressed and I became the recommended IT supplier for IGS (later Softbrands)  until about 2000. During the boom, of the new hotels that were built in Ireland we did over 40% of the IT systems. Between 2010 and 2011 only three new hotels opened in Ireland and we did the systems for them all".
During the downturn Tierney's thought about diversifying their market and considered expanding their offering into schools and other customers, however, once again remaining within the hospitality sector stood to Andy. "From 2008 until 2011, we had very tough years. However, we managed to only make one person redundant during those years. We worked with customers who couldn't afford maintenance, we worked out payment plans, we just kept their systems going and that has stood to us. Our customers are extremely loyal and we survived on maintenance contracts".
Since 2012 Andy says he has seen a steady increase in business in the sector. "Since about 2012 properties have been upgrading their systems, replacing equipment that's on its last legs etc. Approximately two-thirds of businesses have upgraded the old PMS systems now".
Hotels are hospitality people, not IT people, so how does Andy find doing business as an IT company in a hospitality marketplace? "We are not a hospitality company we are an IT company but we are part of the hospitality tribe. We are the biggest IT company in the hospitality industry and we speak their language, we know what they need and what they're looking for and in that way we make our customers lives very easy. A very famous hotel told me recently that broadband is now more important to them than water! So, that's how important a hotel's IT system is now. It is the backbone of their sales as well as their customer's experience".
Tierney's were the recent recipients of the NCR award for innovation across three sectors of business; finance, hospitality and retail in the European, Asia and African regions.
Andy says that from the day he can remember he wanted to own his own business. So the decision to take a chance 25 years ago has certainly paid off. Tierney's now has 38 employees and most of the senior staff have been with the company from the beginning or over a decade. Also, all their senior people have been trained by Tierney's and training their staff in their expertise has remained a central part of the company philosophy.
So where does Andy see the future IT trends within the sector going? "I think we'll see more and more information being moved onto the cloud. I also think more and more hotels will look for more efficient ways to own their customers data and customer base. I think hotels may start to move away from external booking services like the OTA's and look at ways to maximise their revenues through more efficient booking systems on their own platforms. There are so many ways that hotel's IT systems now are helping their staff with systems that can be seen in different languages depending on where the staff member using it is from."
IT is continuing to meet the needs of the changing world of the hospitality industry and Tierney's remain at the forefront of meeting it's customers needs through innovation, customer service and hard work.