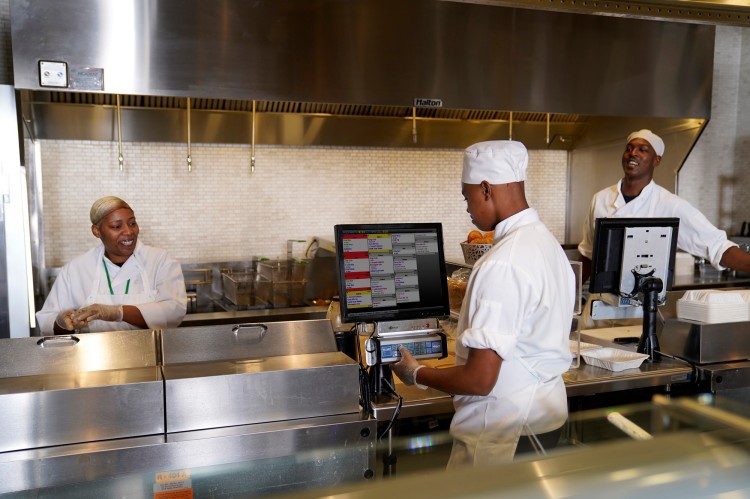 Four ways to overcome kitchen chaos and orchestrate off-premise orders seamlessly!
Even before the pandemic, off-premise orders were on the uptick with consumers preferring the convenience, ease and flexibility of ordering whatever they craved to enjoy wherever they wanted. But the pandemic has kicked up take-out, curbside and delivery orders to a whole new level with safety now a major concern for your customers. For most restaurants, especially those that were adjusting to off-premise orders or didn't have them at all, operators know all too well the complexity the increase has placed on their business, kitchen and staff as a whole. Here are four of the main challenges you face with the increase in off-premise ordering demands and how, with the right technology, you can meet them—and serve delicious, fresh food to every customer, no matter where they are.
Challenge #1: Simplifying the order flow chaos
So, you're offering your customers the flexibility they want: sometimes they want to pick up their orders and other times they want to stay home and have your food and beverage come to them—and they want to pay with their digital wallets. That involves a bunch of ordering variables for your staff inviting room for mistakes and taking up valuable time, especially if that involves manually entering orders. Beyond the burden it places on your business and employees to keep up, the bottom line is that the chaos could jeopardize your customer's satisfaction and, ultimately their loyalty.
Solution: Streamline and simplify order flow
You can eliminate the potential mistakes when all of your ordering channels, including third-party delivery providers, are integrated into your point of sale (POS) system. That way, every order, regardless of the type, is automated, with orders routed to the kitchen seamlessly and queued in their proper place. The integrations reduce the number of manual entries made by your staff, freeing them up to focus on your guests instead of keying in the next delivery order.
Challenge #2: Organising and scheduling orders with different pick-up times
Beyond streamlining the ordering and delivering of your food, the hard work of preparing it on time in a way that meets you and your customers' standards presents a whole new challenge. While digital orders are coming in from outside your restaurant with varying pickup or delivery times, managing order flow traffic can be a headache for your kitchen staff if you can't properly queue and send items to the right prep station at the right time. And the last thing you want is to serve your customers your otherwise tasty dishes gone cold or spoiled because they took too long to get to them.
Solution: Automate the scheduling and prep timing in the kitchen
With advanced kitchen technology, orders can be automatically and intelligently scheduled based on prep time and time of pickup. And each item can be prepared in the right order, so each part of your customer's order is finished cooking at the same time. In the end, your staff can have orders prepped and packaged at just the right time for pickup or delivery, and your customers can rely on getting your fresh, delicious food.
Challenge #3: Lack of view into all incoming orders that impact kitchen capacity
When orders are only placed inside the restaurant, it's much easier to monitor activity in your dining room and kitchen to gauge whether you're staffed to meet demand, enabling you to ramp up or down accordingly. But adding off-premise orders introduces more demand on your kitchen making it more difficult to anticipate or "see" exactly how order and customer service demands are being met, and that can have big consequences to your operations.
Solution: Gain real-time view of the kitchen capacity so you can make game-time decisions
Advanced kitchen technology can help you gain greater visibility into the heartbeat of your operations by giving you anytime, anywhere access to your kitchen data. Getting real-time data on your kitchen's performance is essential to staffing your kitchen appropriately, and keeping your inventory stocked. Whether analysing average cooking times or speed-of-service levels, your kitchen data gives you insights into how it's operating to meet demand in an off-premise, digital-first world. Also, the right technology can help you better predict your busiest days, so you can begin prepping popular items early to meet your customer's demands.
Challenge #4: Confusion in the pickup experience
Most restaurants have partially opened their dining rooms and patios (with safe distancing measures in place), giving their customer's the social aspect of going out to eat. But the last thing you want to do is disrupt their experience with chaotic off-premise pickup by customers who don't know where to go to get their orders. That could impact your customer experience all the way around and hinder your social distancing procedures.
Solution: Think through the customer flow for the in-store ordering and pick-up experience
You can reduce and eliminate confusion with digital signage to proactively let your customers know exactly how, when and where they can grab their take-out and curbside orders. With the right steps and signs, you can help your customers navigate to the right area in your restaurant—whether they're picking up their mobile order or a third-party driver is doing it for them. You can also leverage digital signage to provide real-time order updates that keep people from hovering at the pickup counter.
Meeting the demands of off-premise ordering is essential for restaurants survival during the pandemic. And, with the right technology you can master all of the moving parts to give your customers a great guest experience. Whether it's through seamless integrations, real-time data or impactful signage, take the time to research how advanced technology can help you streamline orders from end to end, stay efficient and continue to deliver the food and convenience your customers have come to expect, no matter where they may be.
Talk to our POS experts in Tierney's for all the latest on our  NCR Aloha POS Restaurant Solutions