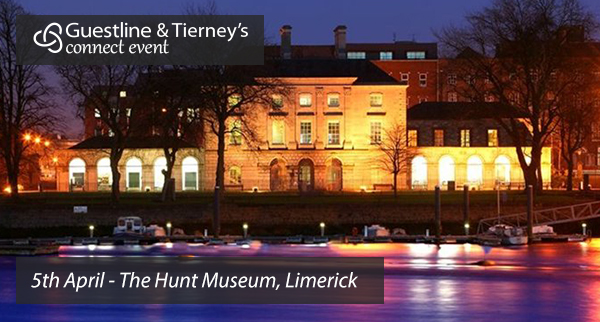 Connect Ireland Limerick
Join Guestline and Tierney's – with their key partners, Google, Cadenza, Digital Alchemy and GuestRevu – for a networking event to hear the latest tips and innovations in the Irish hospitality market. Share fresh ideas and best practice with like-minded hoteliers from across the region and industry experts.
By attending, delegates will learn:
How to convert your online presence into bookings
The growth of mobile bookings and the impact they have on your business
How to effectively communicate with your guest after the reservation process
The currency of trust and why driving reviews to TripAdvisor is key
How to maximise business intelligence
Benefits of having one integrated solution to manage your property and your channels
This will be your opportunity to hear from technology experts and network with other hoteliers…all in the comfort of the The Hunt Museum in Limerick.
Complimentary refreshments and finger food will be served.
Date & Time
Date – Wednesday 5th April 2017
Time – 9.30am – 1pm
Agenda
9.30 – Arrival refreshments and registration
10.00 – Welcome and introduction – Guestline & Tierney's An overview of the range of cloud-hosted, integrated hospitality software solutions available on the market and the importance of partnerships in business.
10.30 – Stand out from the crowd online Today's traveller is embracing connected platforms, discovering more through digital and living online.  Smartphone penetration is now over 70% in most European markets, mobile search has outpaced desktop globally and we are searching and exploring online in micro-moments throughout the day. Google's Hotel Ads drive traffic and bookings to your site by putting your ad front and centre when travellers are ready to book.  Please come along to understand how you can stand out from the crowd with Google Hotel Ads.Speaker TBC
11.00 – "The currency of trust" and why driving reviews to TripAdvisor is key Hotels and hotel groups worldwide use GuestRevu's guest intelligence solutions to connect with their guests through direct feedback and online reputation management. GuestRevu will demonstrate how hoteliers can use their guest reviews to help them increase loyalty, growth and profitability with their easy to use online reputation management (ORM) and direct guest feedback solutions.GuestRevu will explain how valuable it is to know what guests are saying about you – why not make use of what millions of travellers share online by capturing and analysing all of your guest reviews and comments from all over the web? Stay ahead in the digital world and make sure you never lose out on an opportunity to engage with your guests and develop their loyalty. All of which will help hoteliers drive bookings and ultimately revenue. Plus, it'll help you keep ahead of the competition by looking at their online reputation score as well.Francine Heywood, Director at GuestRevu
11.30 – Explore your data intuitively, all in one place Create and interact with smart and customisable visualisations using easy drag and drop features.  Access anywhere, anytime, on any device.  Automated data collection.   Completely managed service all you need is a web browser.We will demonstrate three areas of interest:Understand guest loyalty using a customer value score.Booking channel loyalty, identify which customers are booking through multiple
different channels.  Take action to bring them back to brand.com.Create a simple visualisation of sales by market.

David Ganly, Cadenza

12.00 – You have a booking, now what? Learn the best practices on how to effectively communicate with your guest after the reservation process. From confirmation to pre-stay and post-stay, hear some great tips for finding hidden revenue and keeping guests spending in your hotel.Walk away with some fantastic new concepts you can incorporate into your marketing and revenue plan.Nigel Allport, Digital Alchemy
12.30 – Lunch and Networking
13.00 – Finish
Venue & Directions: The Hunt Museum houses one of Ireland's greatest private collection's of art and antiquities dating from the Neolithic through to the 20th Century. For more information on the venue, please click here
To Register: for this free event, Please Click on the link,scroll to the end of the page and fill in your details to register your interest and we will confirm your attendance.