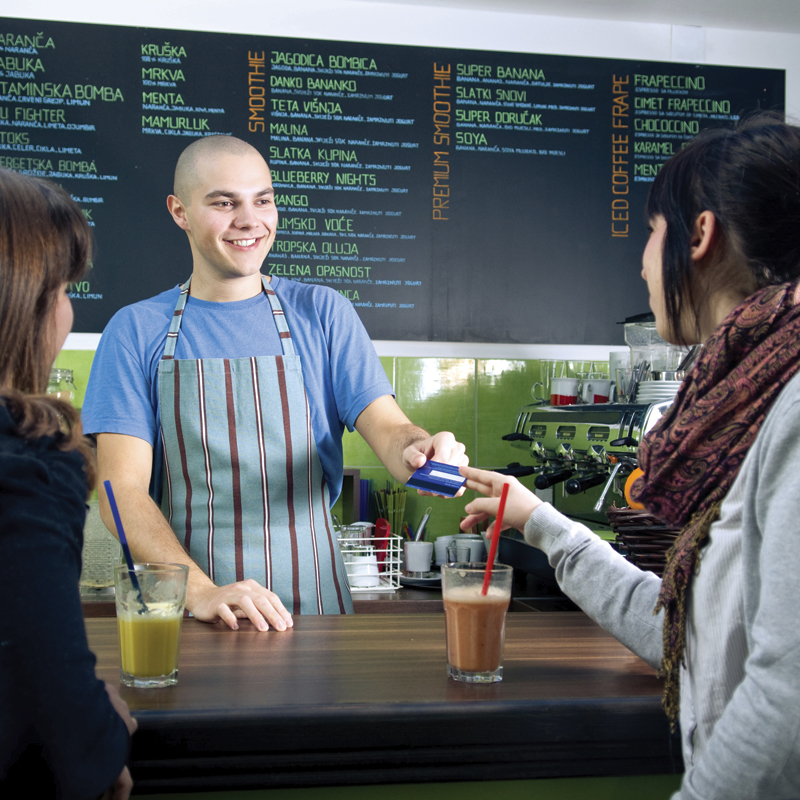 We all know that restaurant businesses are built upon customer loyalty. While passing trade is essential, it's the regulars that are proven to spend more at each visit and loyalty programmes can deliver even further uplift. According to a recent study by Rosetta about customer attitudes and behaviours, engaged customers buy 90% more frequently, spend 60% more per transaction and deliver three times the value to the brand over the course of a year.
What's more, attracting new customers costs five to nine times more than keeping existing ones. Add the fact that 68% of millennials say they won't be loyal to a brand if it doesn't have a good loyalty programme, operating a robust loyalty programme is an important 'must' for today's restaurant business.
According to Deloitte, the five things the customers want from their loyalty programmes are:
Instant rewards
Personalisation
Simplicity
Recognition
Engagement
NCR Loyalty has been designed to help restaurateurs meet all these demands. Our loyalty solution offers restaurateurs a comprehensive suite of customisable loyalty programmes – from 'points mean prizes' and % off spend, through to frequency and item based rewards – meaning restaurant owners can build a loyalty programme that fits their business model and importantly reflects the desires of their clientele.
The key to a truly successful loyalty programme is simplicity – both for staff to understand, sell and implement, as well as being easy for customers to use and achieve rewards. Indeed, 59% of Millennials – who account for 23% of restaurant spend – would quit a restaurant loyalty programme because the rewards were not valuable enough, according to research by Software Advice. Loyalty programmes are a highly valuable tool – not only for driving increased visits – but as a way to collect data and build profiles of your customers. Consequently, this enables restaurants to engage with their customers with rewards or offers if it's their birthday or if they haven't been to the restaurant for a few weeks.
"Loyalty is incredibly powerful and goes about helping boost your business in many ways," says Jack Jackson, cloud-based applications specialist in EMEA. "Personalised offers are always well received, showing that you understand your customer, their habits and preferences. What's more the data that is gathered from customers using the loyalty programme is really insightful – such as the comparison in table and average cheque spend between those using loyalty to those not – which we've seen to be as much as 30%, as well as how frequently they visit and the most popular menu items amongst the most loyal audience."
NCR Loyalty is a valuable solution to have within your Aloha portfolio. Functionality rich, NCR Loyalty enables you to customise your loyalty programme to a granular level through an easy to navigate interface. Loyalty promotions can be scheduled, meaning, for instance, you can set up 12 monthly promotions at the start of the year, and they will automatically roll out throughout the year. Meanwhile, NCR's web service offer enables restaurateurs to build their own apps and incorporate the loyalty scheme into it, meaning they are ticking another box on customers' desires – interaction with restaurants via their smartphones.
The open architecture of NCR Loyalty means data can be easily integrated and sorted via excel or utilised in other programmes, including email marketing applications. In addition, its own functionality can also be furthered with integration with our specialist partners, such as Fishbowl, to be able to power a strong CRM marketing engine.
Importantly for restaurants moving an existing loyalty scheme to Aloha, the system is able to upload data from an existing loyalty scheme, ensuring consistency for customers. Customers are increasingly wanting to be rewarded for their loyalty – it's important that restaurants are offering their customers some type of recognition and NCR Loyalty is the first step on this journey.
To find out more about how NCR Aloha POS and how Loyalty can benefit your business, speak to our Hospitality Solutions Team in Tierney's today –  contact us 
Article published by NCR Hospitality News – 2017