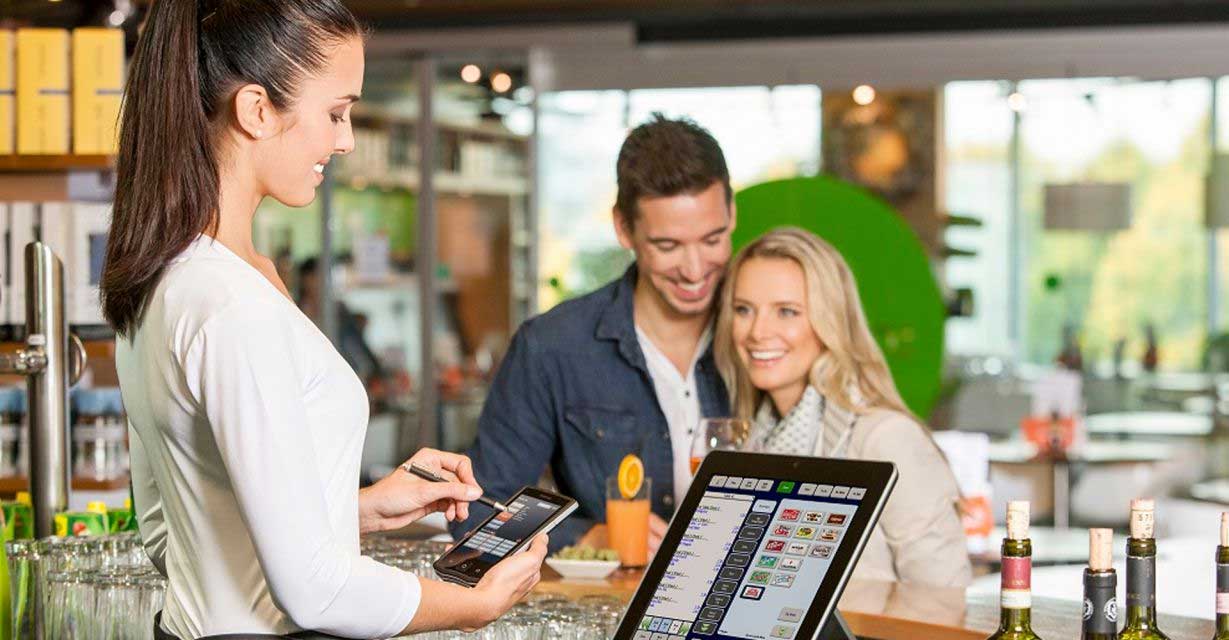 Published by NCR – Partner of Tierney's POS Hospitality Software & Hardware. 
A lot happened in the restaurant industry in 2015: an increased use of mobile apps for consumer ordering and loyalty programs, the EMV liability shift, and more! Perhaps most of all, we saw a continued shift in how restaurants view and use technology to power every aspect of their businesses.
This next year will surely not be without its own set of challenges. So what can you expect in 2016? More excitement about secure payment processing, mobile commerce, labor optimization, and omnichannel engagement. For now we'll take a look at just a few things that are on the table from a technology standpoint in 2016.
Payments
Now that the October 1, 2015 EMV liability shift has passed, much of the media hype has calmed down. But the responsibility of preventing counterfeit or stolen card use is here to stay. It may take a few years, but eventually your customers will expect you to process EMV-enabled payment cards. Be sure to consider your customer's experience in any payment process change.
A closer and more present danger is data security. Despite the EMV liability shift, payment-related breaches will continue in 2016. While large-chain cyber attacks will continue to dominate the headlines, breaches to small businesses will cause the most damage, according to an industry forecast by Experian. Every business should have security measures in place to protect their own payment networks as well as to protect their customers' card data.
With these disruptions occurring in consumer credit cards, mobile wallets are emerging as a viable, and secure, alternative for payments. One challenge with mobile wallets, however, is consumer and merchant adoption. Apple Pay, Samsung Pay and Google Pay have had a difficult time changing customer behavior and driving demand. In 2016, payment platforms will continue to battle to gain customers and usage – so what should you do?
Get to know your customers. Find out which mobile offering will reduce hassles and add value to them. Invest in a payment platform that allows you to respond to customer demand now, and in the next three years.
In upcoming blog posts we will discuss more payments and security issues.
Mobile Consumer Engagement
Mobile commerce transactions are expected to top $142 billion in 2016, according to a report from Forrester Research. In fact, recent data suggests that those consumers who place orders online are also more loyal to the brand. According to a NRA/LevelUp whitepaper, consumers who have placed an order online visit the restaurant 67% more frequently than those who haven't. Mobile ordering also has a direct impact to the restaurant's bottom line. Taco Bell's app orders are 20% higher on average compared to in-store because consumers are more likely to add toppings to their orders or send in group orders via the app.
But don't think that just creating an app is the automatic answer to higher customer engagement. The goal is a familiar and frictionless experience on any device. You still need to provide value for your customer by making it easy to sign in, place orders, and add or redeem loyalty points. If you don't make the experience an easy and memorable one for your consumers, they may not use the app again.
While a mobile engagement strategy offers a substantial opportunity to drive sales, it also comes with risks. If not thoroughly planned for in advance, a successful online ordering program could have a substantial impact on the dynamics of a brick-and-mortar restaurant's operations. For example, order flows that are not properly managed could create an unpleasant in-store experience and actually hurt sales. System integration is the key to delivering a seamless experience that doesn't impact your employees' productivity. Also, if you are considering developing a mobile app for your brand, it's critical to make sure that you develop and execute staff training as part of your strategy. Your guests shouldn't be the ones to train your staff on new technology.
Employee productivity
The challenge of any operator continues to be managing their cost of labor. Fortunately, consumer-focused technology advances also have a direct and positive impact on employee productivity. For example, one of the benefits of consumer self-ordering, whether by kiosk or by mobile device, is the ability to optimize labor costs; by streamlining the ordering process, more focus can be given to kitchen production or serving guests. Giving your customers the power to choose how they interact with you also gives your team more flexibility to increase their face time with guests.
Evaluating employee productivity is easier with access to real-time data. It is certainly more effective to review speed of service and table turns after each shift, rather than the next day. You can also let employees know how close they are to reaching an incentive goal. Servers will work harder to increase the number of desserts sold on Saturday night if they know they are close to achieving success.
At NCR we nerd-out ordering our favorite food on the latest mobile apps that we've helped our customers build. If you don't have a dedicated IT department (or even if you do), we can help you build a customer engagement strategy. Most importantly, we can help you future-proof your operations so that your technology investment will continue to grow with you.
So what other technology trends could impact operators in 2016, and beyond? In future posts we will look at: more integrated payments and security options, delivering an omnichannel experience, getting more personal with your guests through technology, and how the Internet of things will affect your business. In the meantime, watch our Blog posts for more insights to build an integrated experience better than anyone else.
Andy Sirmon, NCR Hospitality, January 2016
Tierney's are Ireland's sole re-seller and installer of NCR Hospitality Aloha Point of Sale System call us today for a full demo and no obligation quotation.