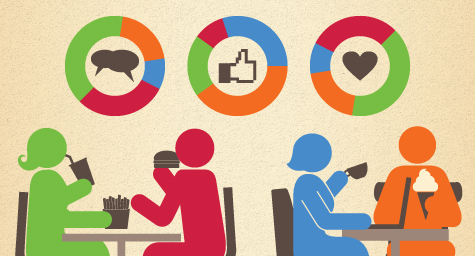 Big Data is one of the the latest business trends – enabling businesses to better understand how they are performing, why – albeit positively or negatively – and make changes for the better.
The amount of data that a restaurant business now generates is phenomenal, but it's not about the amount of data you have but what you do with it. Data comes from a range of sources – within the restaurant of course, but also social media, industry trends, weather, economics etc. and the key is bringing these all together to build a unique picture for your restaurant.
For the restaurant industry the most important access point to Big Data is the point-of-sale system which enables a restaurateur to gain insight into a whole host of business metrics, but some of the most important would be financial performance, day / week / month peaks and troughs, staff performance and best / poorest performing menu items.
Most importantly, big data can also give restaurateurs tremendous insight into their customers – their meal preferences, most popular meal combos, how long they stay, how much they spend, how many are signed up to a loyalty scheme and much more.
Big Data is therefore exceptionally powerful in enabling you to hone your business to reduce costs, improve efficiency and maximise profitability.
NCR has a number of data and analytics tools available to help businesses interpret their data into actionable insights. Our NCR Pulse Real-Time Platform, enables you to see financial performance, labour ratios, even individual transactions in real-time via your smartphone and if required take action. Meanwhile, with NCR Insight you can pull your data into a variety of reports – almost 400 – to understand specific areas where savings or efficiencies can be made moving forward or to look back at historical performance to predict future trends.
Big data is incredibly powerful for a restaurant, but it has to be able to break it down and interpret it into actionable insight – without doing so means you have a lot of information that delivers no value.
Tierney's together with NCR are proud to be at the forefront of providing analytics tools to its customers, enabling them to gain greater understanding from their restaurants' performance and drive a more successful business.
We specialise in installing, training and supporting the NCR Aloha Restaurant Point of Sale Hospitality Solution, so do speak to our Business Development Manager Angela Colton or contact the sales team for a full Aloha Demo and  see the insights and benefits that are there for the taking.
Source: NCR Corporation – July 31st 2017